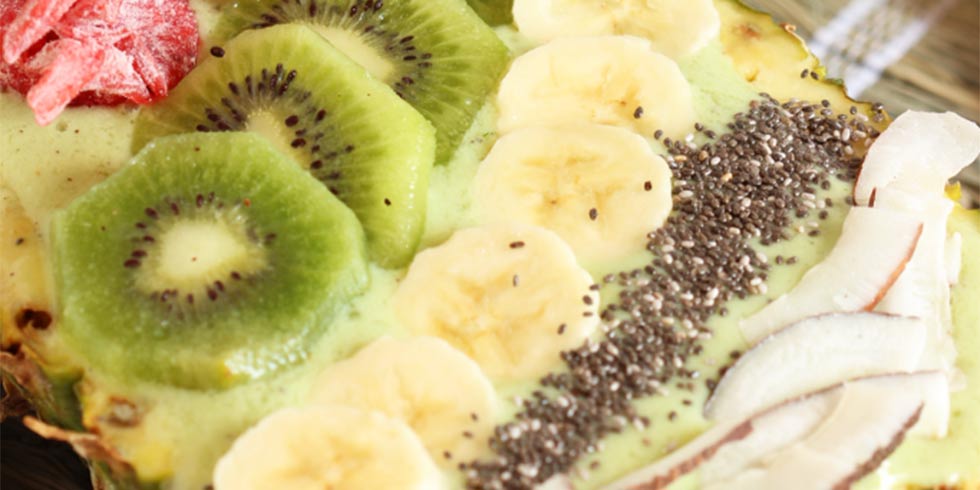 Tropical Green Smoothie Bowl
( Kellie Hemmerly
Drinks, Breakfast
American )
Take your taste buds to the tropics with a refreshing and light Tropical Green Smoothie Bowl packed with nutrients and exploding with flavor. Refreshing, juicy pineapple is the star ingredient along with kiwi, banana, coconut and chia seeds. You can brighten things up a bit further with a sweet little surprise in the form of candied hibiscus flowers. This recipe comes to us from Kellie Hemmerly, author of The Suburban Soapbox.
Tropical Green Smoothie Bowl
Prep Time: n/a
Cook Time: n/a
Total Time: n/a
VegetarianDiet
Ingredients
2 cups fresh pineapple chunks, frozen 2 bananas, peeled and sliced 1/2 cup plain, low-fat Greek yogurt 3 kiwi fruit, peeled and sliced 1/2 cup low fat coconut milk 1/4 cup chia seeds 1/4 cup unsweetened coconut flakes 4 candied hibiscus flowers, if desired If you prefer to use fresh, unfrozen pineapple in your smoothie you'll need to add 1 cup of ice to thicken your recipe.
Instructions
Add the pineapple, 1 banana, yogurt, 2 kiwi and coconut milk (and ice, if using fresh pineapple) in a blender Puree until smooth Divide the mixture into two glasses Garnish with the remaining banana, kiwi, chia seeds, coconut flakes and hibiscus flowers. Serve immediately
MAKES: n/a
SERVES: n/a
CALORIES/SERVING: n/a