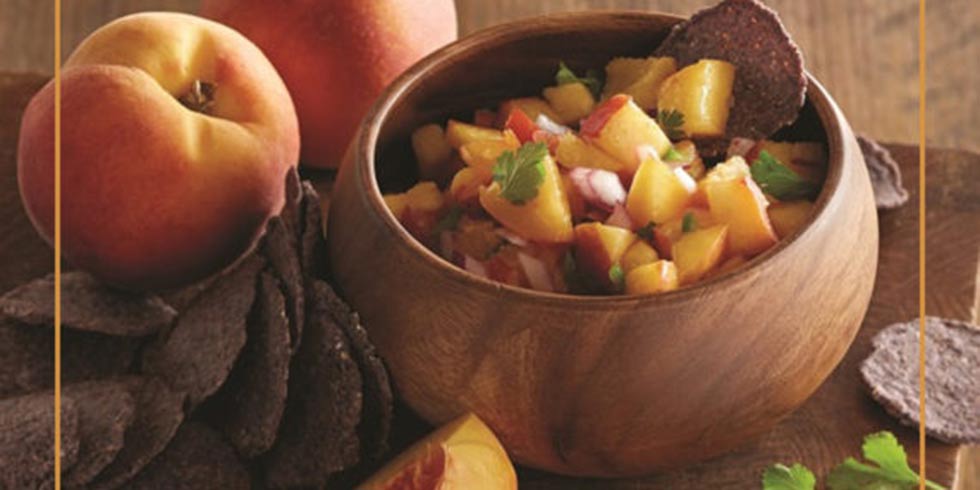 Spicy Peach Salsa
( Harry and David Team
Snacks, Appetizers
American )
We love any recipe that lets us enjoy summer's sweet, juicy peaches. While peaches are great grilled, baked, poached and even fried- there's just something about a peach salsa recipe that tastes as fresh as the fruit from our trees. With tart lime, fiery jalapeños, and, of course, those perfect peaches this Oregold@reg; Peach Salsa is a little sweet, a little spicy, and packs in a whole lot of flavor. Perfect for entertaining, post-work snacking, or an at-home taco night, this simple recipe is an excellent go-to for any day of the week.
Spicy Peach Salsa
Prep Time: n/a
Cook Time: n/a
Total Time: n/a
VegetarianDiet, VeganDiet
Ingredients
4 fresh, ripe Oregold@reg; Peaches 2 ripe tomatoes 4 sprigs of cilantro 1/2 lime 1/2 red onion 1 jalapeño 1 tsp salt
Instructions
Dice peaches, tomatoes, and half the onion into a small bowl. Chop cilantro or cut with scissors and add to the bowl. Add lime juice and salt. Stir to combine all ingredients. Serve with tortilla chips.
MAKES: n/a
SERVES: n/a
CALORIES/SERVING: n/a