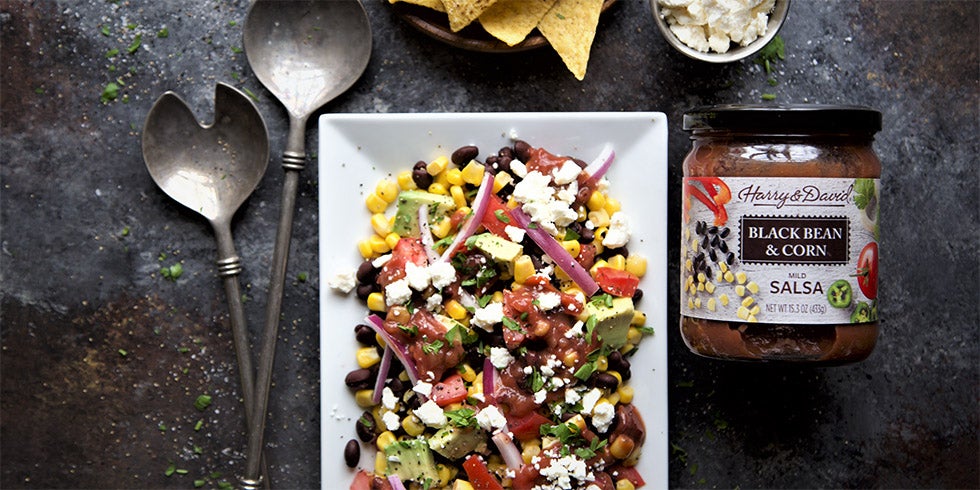 Southwestern Black Bean and Corn Salad
( Lauren Grier
Salad, Appetizers
Southwestern )
A simple salad is always a delight. Whether for meal planning, a quick lunch on the fly, or as a side for Sunday dinner, this Southwestern Black and Corn Salad is super yummy!
Southwestern Black Bean and Corn Salad
Prep Time: PT10M
Cook Time: 0
Total Time: PT10M
VegetarianDiet
Ingredients
1 1/4 cups canned black beans, rinsed and drained 1 1/4 cups fresh or canned corn 1 medium tomato, diced 1/3 cup red onion, diced 1 medium avocado, pitted, diced 1/3 cup Harry & David Black Bean and Corn Salsa 2 tbsp feta crumbles, for garnish
Instructions
In a large bowl combine black beans, corn, tomato, red onion, and avocado. Next, add in the Harry and David black bean and corn salsa. Gently toss to combine. Pour the salad into a serving bowl and garnish the top with feta crumbles.
MAKES: n/a
SERVES: n/a
CALORIES/SERVING: n/a