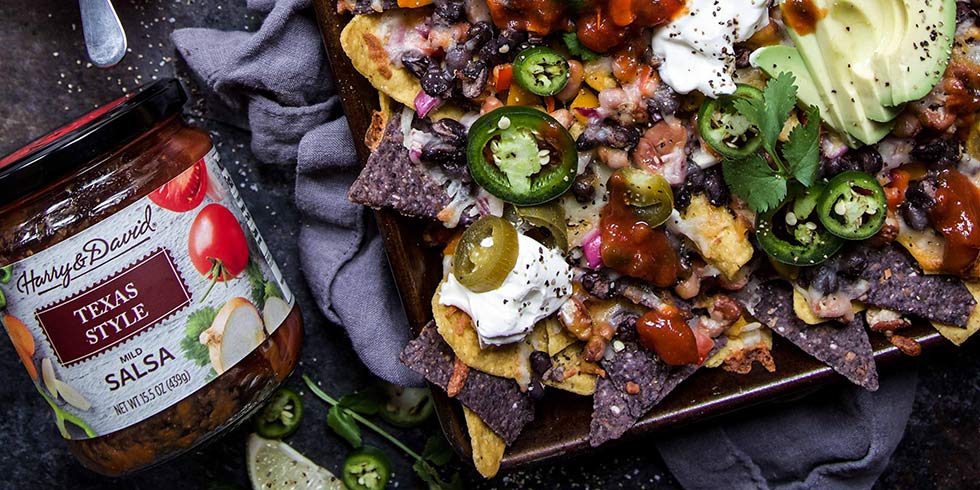 Sheet Pan Nachos for Game Day
( Lauren Grier
Snacks, Entrees
Appetizers )
These Texas-Style sheet pan nachos are the perfect recipe to add to your game day spread. Created by Lauren from Climbing Grier Mountain, Harry & David Texas-Style Salsa makes the perfect topping for these vegetarian nachos. With plenty of cheese and fun toppings, these nachos are sure to score with your guests on game day!
Sheet Pan Nachos for Game Day
Prep Time: PT10M
Cook Time: PT15M
Total Time: PT25M
VegetarianDiet
Ingredients
1 medium bag corn tortilla chips 1 medium bag blue corn tortilla chips 1/3 cup diced red pepper 1/3 cup diced orange pepper 1/2 cup black beans, rinsed, drained 1/3 cup diced red onion 1/2 cup pinto beans, rinsed, drained 1 cup shredded Monterey Jack cheese 1 cup shredded Mozzarella cheese 1/3 cup shredded Pepper Jack cheese Harry and David Texas Style Salsa, for garnish Sliced avocado, for garnish Sour cream, for garnish Pickled jalapeños, for garnish Fresh jalapeños, for garnish Chopped fresh cilantro, for garnish
Instructions
Preheat your oven to 325 degrees. Spray a 1/4-sheet pan with non-stick cooking spray. Take the corn and blue corn tortilla chips and arrange them in a colorful display on the baking sheet in a single layer. Next, top the tortillas chips with red pepper, orange pepper, red onion, black beans, and pinto beans making sure all the ingredients are spread out evenly. In a medium bowl, mix together Monterey Jack, mozzarella and pepper jack. Sprinkle the cheese on top of the veggie and beans. Place the sheet pan into the oven and bake until golden brown or until the cheese has melted. Remove the sheet pan from the oven and garnish with Harry & David Texas Style Salsa, avocado, sour cream, pickled jalapeños, fresh jalapeños, and cilantro. Serve and enjoy!
MAKES: n/a
SERVES: n/a
CALORIES/SERVING: n/a