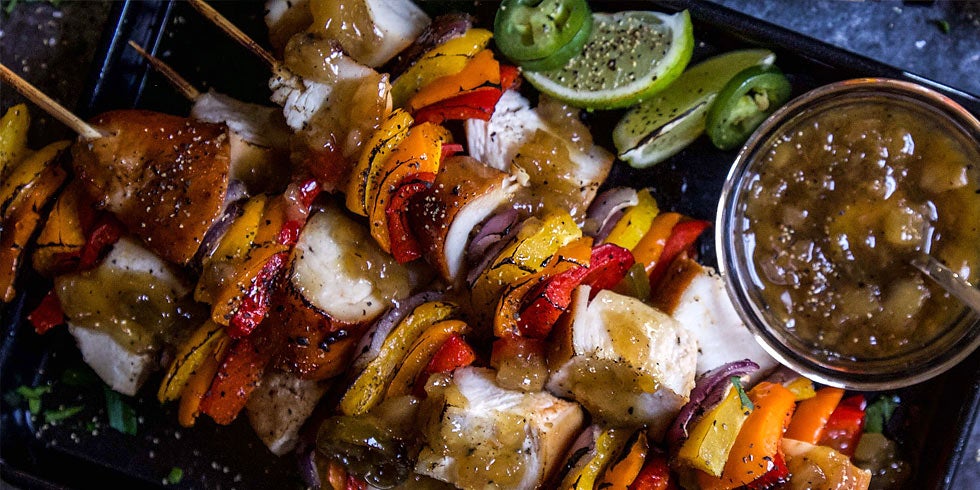 Charred Pineapple Chicken and Steak Kebabs
( Harry and David Team
Dinner, Appetizers
American )
Summer is the perfect time to fire up the grill and create a mouthwatering feast for family and friends. This year, elevate your backyard get-together with quality meats, premium ingredients, and unique BBQ recipes. Our new collection of gourmet essentials provides nearly everything you need to make every celebration memorable. Stock Yards has been delivering the best steaks and chops for more than 100 years. we're proud to make their meat and seafood available, making it easier than ever to have premium mail order steaks, burgers, lobster, and more delivered. We also offer a variety of unique BBQ sauces, from our famous Original Oregon@reg; Trail sauce to innovative flavors like peach and hatch chili. People who enjoy grilling and barbecuing will love receiving one of our one-of-a-kind grilling gift baskets or a gourmet-grilling gift that makes an impressive feast feel almost effortless. If you're looking at your steak and chicken kebab recipes from last year, consider mixing it up and combining the two to make our Charred Pineapple Chicken and Steak Kebab Recipe. The addition of pineapple relish, bell peppers, and mushrooms transforms your kebabs into something sweet, savory, and delicious. Get ready for a season of warmer weather with good food and great company.
Charred Pineapple Chicken and Steak Kebabs
Prep Time: n/a
Cook Time: n/a
Total Time: n/a
LowLactoseDiet
Ingredients
3 chicken breasts, cut into 1-inch cubes 3 steaks, cut into 1-inch cubes 1 large pineapple, cut into 1-inch chunks 4 bell peppers, cut into 1-inch chunks 1 lb. button mushrooms Harry & David@reg; Charred Pineapple Relish
Instructions
Skewer ingredients in alternating order. Marinate in half of the Harry & David@reg; Charred Pineapple Relish for 1 hour or overnight. Grill and baste with remaining relish. Serve with rice and enjoy.
MAKES: n/a
SERVES: n/a
CALORIES/SERVING: n/a