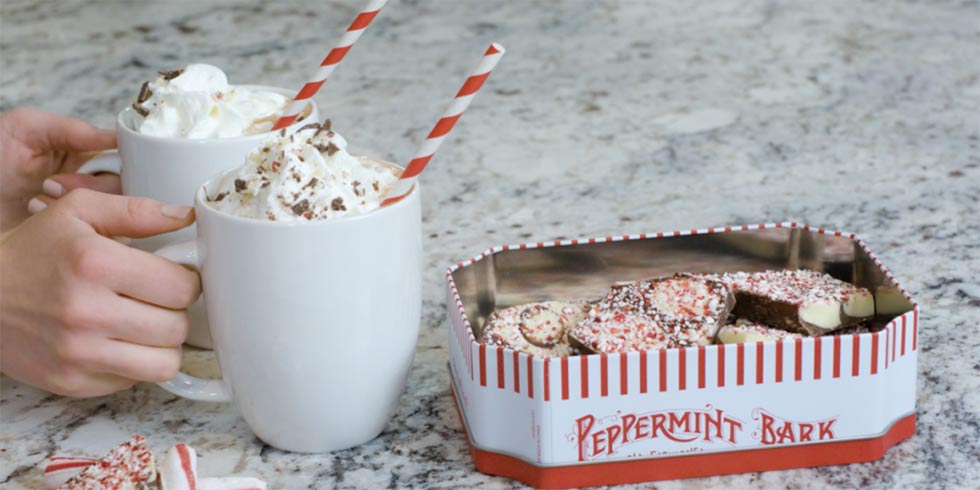 Peppermint Bark Hot Chocolate
( Maria Lichty
Dessert, Drinks
American )
Warm up with a mug of peppermint bark hot chocolate. Two Peas and Their Pod blogger and Cookie Cravings cookbook author Maria Lichty shares her festive holiday recipe.
Peppermint Bark Hot Chocolate
Prep Time: n/a
Cook Time: n/a
Total Time: n/a
VegetarianDiet
Ingredients
1/2 cup sugar 1/4 cup baking cocoa Dash of salt 1/3 cup hot water 4 cups milk 3/4 teaspoon vanilla extract 5 pieces of Harry & David@reg; Peppermint Bark Whipped cream Chopped peppermint bark, for garnish 5 candy canes
Instructions
In a saucepan, combine sugar, cocoa and salt. Add water; bring to a boil. Cook and stir for 2 minutes. Stir in milk and warm over medium heat; don't boil. Remove from the heat; stir in vanilla extract. Whisk until frothy. Place a piece of peppermint bark in the bottom of a mug. Pour hot chocolate over bark. Garnish with whipped cream,chopped peppermint bark, and a candy cane on the side. Serve Immediately.
MAKES: n/a
SERVES: n/a
CALORIES/SERVING: n/a