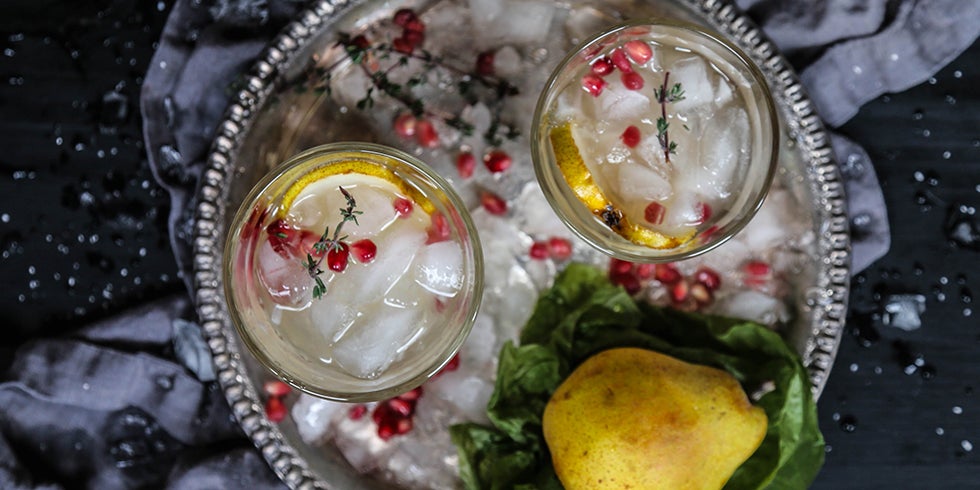 Festive Pear Kombucha
( Lauren Grier
Drinks
American )
This fizzy, fruity cocktail is made with delicious Royal Riviera@reg; Pears, ginger, and kombucha tea. Lauren Grier from Climbing Grier Mountain is sharing a fun recipe combining some of our favorite flavors.
Festive Pear Kombucha
Prep Time: PT15M
Cook Time: PT5M
Total Time: PT20M
VegetarianDiet
Ingredients
1/2 cup water 1/2 granulated sugar 1 cup Royal Riviera@reg; Pears, sliced thinly 1 tablespoon fresh ginger, grated 2 shots vodka 2 cups ginger lemon kombucha Fresh pomegranates, garnish Fresh thyme sprig, garnish ice
Instructions
In a saucepan, add water, sugar, 1/2 cup pears and fresh ginger. Bring to a slight simmer and stir until the sugar has dissolved. Remove from heat to cool completely. Strain the simple syrup through a fine mesh sieve and set aside. Fill a cocktail glass with crushed ice. Add 1 shot of vodka, 1 tablespoon pear simple syrup, and fill the rest with ginger lemon kombucha. Garnish the cocktail with pear slices, pomegranate seeds, and thyme! Repeat the process with for remaining cocktails. Serve and enjoy!
MAKES: n/a
SERVES: n/a
CALORIES/SERVING: n/a