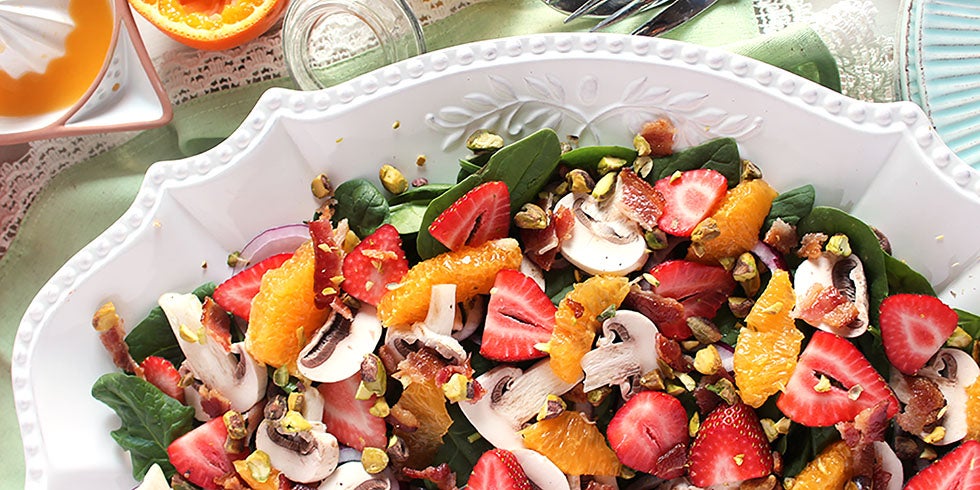 Honeybell Citrus, Strawberry and Spinach Salad
( Kellie Hemmerly
Appetizers
American )
A classic salad with a twist, this HoneyBell citrus (a sweet cross between a tangerine and grapefruit), strawberry and spinach salad recipe is sprinkled with chopped pistachios and drizzled with a warm bacon salad dressing brightened up with a bit of citrus. Light and refreshing, this salad is the perfect way to welcome spring.
Honeybell Citrus, Strawberry and Spinach Salad
Prep Time: n/a
Cook Time: n/a
Total Time: n/a
Ingredients
_For the salad 4 slices thick cut bacon 8 cups fresh baby spinach, rinsed and dried 2 HoneyBells (or orange alternative), peeled, segmented and membrane juiced 1 1/2 cups sliced strawberries 1 cup sliced white mushrooms 1/2 cup thinly sliced red onion 1/2 cup rough chopped shelled pistachios _For the warm citrus bacon dressing 1/4 cup bacon fat 1/4 cup HoneyBell juice (or orange alternative) 1/2 cup champagne vinegar 1 tablespoon honey 1/2 teaspoon kosher salt 1/2 teaspoon fresh cracked pepper
Instructions
_For the salad In a large skillet, fry the bacon until crisp When cooked, transfer to a paper towel lined plate to cool Pour the bacon fat into a small saucepan and set aside In a large serving bowl, add the spinach, orange segments, strawberries, mushrooms and onion Toss to combine all ingredients _For the dressing Heat the bacon fat over low heat and whisk in the HoneyBell juice, vinegar, honey, salt and pepper until well combined Pour the dressing over the salad and toss to combine Crumble the bacon over the salad and sprinkle with the pistachios and serve immediately Note: If making the salad in advance, be sure to make the dressing right before serving. Do not dress the salad in advance as it will wilt the spinach.
MAKES: n/a
SERVES: n/a
CALORIES/SERVING: n/a