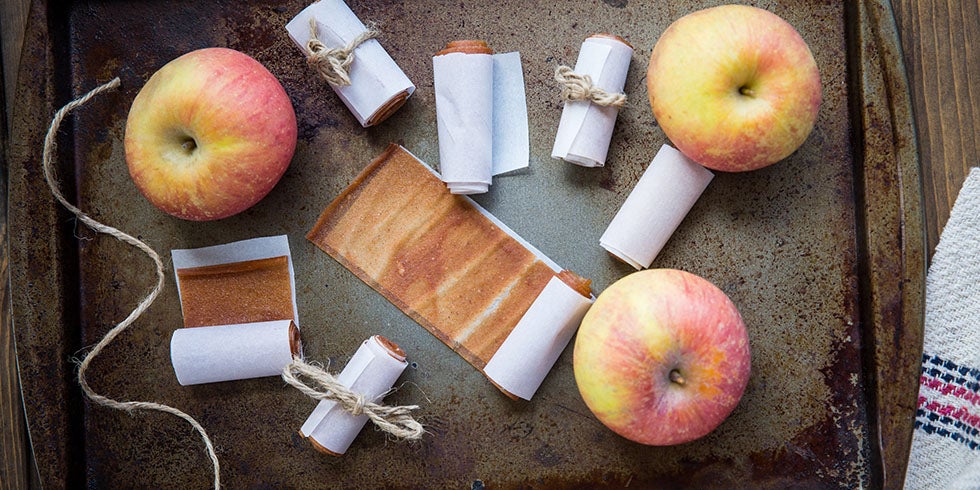 Homemade Fruit Leather Recipe – Two Ways!
This homemade fruit leather recipe is a fun, new way to enjoy your favorite fall fruit. Crisp apples and famous Royal Riviera Pears are the perfect base for this snack recipe.
Homemade Fruit Leather Recipe – Two Ways!
Prep Time: PT45M
Cook Time: PT3H
Total Time: PT3H35M
Vegan
Ingredients
4 cups Royal Riviera Pears, peeled, cored and chopped 1/2 cup water 2 tablespoons raw sugar (or granulated cane sugar) 1 teaspoon ground cinnamon ¼ teaspoon ground cardamom 1 tablespoon lemon juice Pinch sea salt
Instructions
Add all ingredients in a saucepan, cover, and bring to a full boil. Continue cooking, stirring occasionally, until fruit has softened, about 20 minutes. Remove cover and continue cooking at a gentle boil 15 minutes longer, stirring occasionally. Remove from heat and allow mixture to cool. Transfer to a blender and blend until completely smooth. Preheat the oven to 170F degrees and line a baking sheet with parchment paper or a silpat baking mat. Pour the pureed fruit mixture onto the prepared baking dish and smooth into an even layer. It's okay for the mixture to be spread very thinly. Place on center rack of the preheated oven and bake 2.5 to 3 hours, until fruit leather has set up and feels firm to the touch. Remove from oven and allow fruit leather to cool. Transfer entire baking sheet to the refrigerator and refrigerate until chilled. Transfer the fruit leather to a cutting board and use kitchen scissors to cut long strips (Note: if you used parchment paper, you can cut both the parchment and fruit leather and use parchment as a convenient way to roll the fruit leather). Serve or store fruit leather in a sealed container in the refrigerator for up to 10 days.
MAKES: n/a
SERVES: n/a
CALORIES/SERVING: n/a