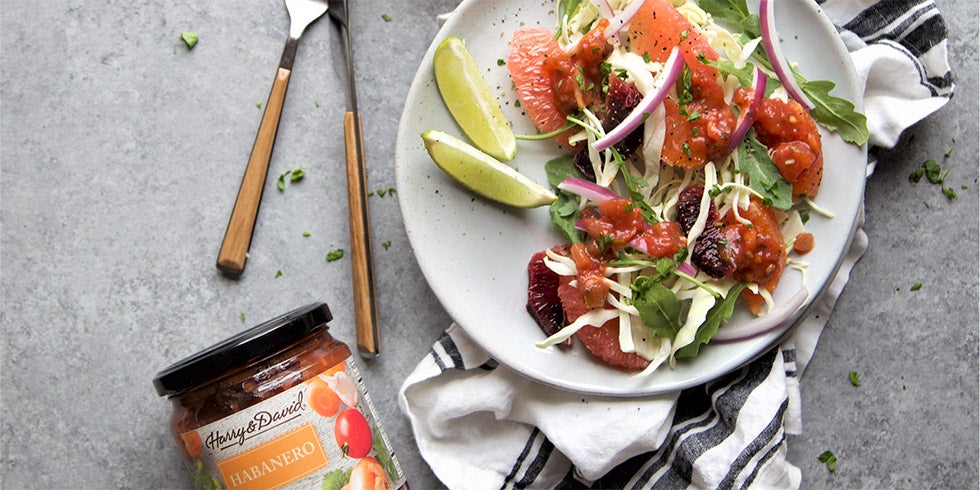 Citrus Salad with Habanero Salsa
Add some crunch to your next feast! This Citrus Habanero Salsa Salad is refreshing and goes with just about any meal.
Citrus Salad with Habanero Salsa
Prep Time: PT10M
Cook Time: n/a
Total Time: PT10M
Vegetarian
Ingredients
4 cups shredded napa cabbage, divided 1 1/2 tbsp lime juice 1 cup red onion thinly sliced, divided 2 medium blood oranges, supremed 1 large grapefruit, supremed 2 medium oranges, supremed Harry & David Habanero Salsa, garnish Fresh chopped cilantro, for garnish
Instructions
In a large bowl combine cabbage with lime juice. Next, take 1 cup of the cabbage and place it on an individual serving plate. Top the cabbage with 1/4 cup red onion and a mixture of blood orange, orange, and grapefruit segments. The amount of the segments will depend on the size of your citrus. You want roughly three to four segments of each fruit. Top the salad with a few dollops of the Harry & David Habanero Salsa. Garnish with fresh cilantro. Repeat process with remaining three plates.
MAKES: n/a
SERVES: n/a
CALORIES/SERVING: n/a