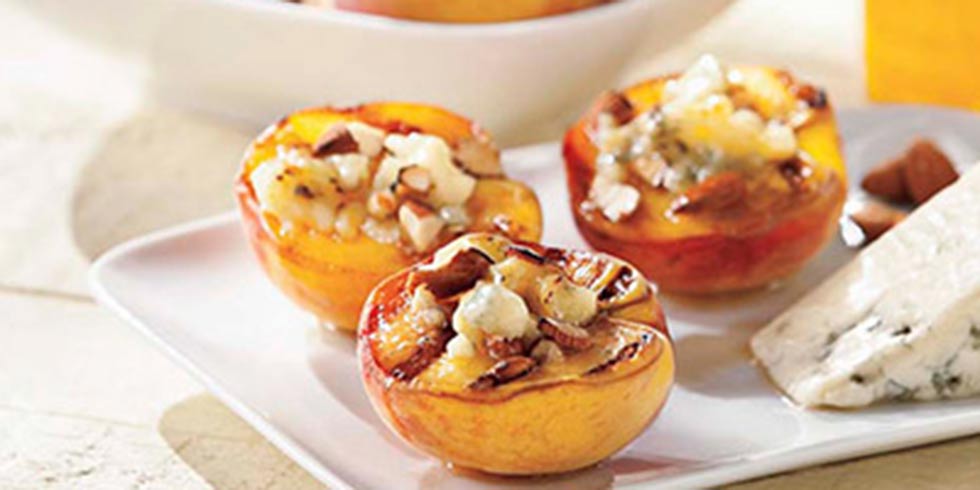 Grilled Peaches, Cheese and Honey
( Harry and David Team
Appetizers
American )
If you have never had grilled peaches, this recipe is an easy, delicious way to start. The grilling process brings out the peachy flavor for an appetizer you will definitely enjoy!
Grilled Peaches, Cheese and Honey
Prep Time: PT5M
Cook Time: PT7M
Total Time: PT12M
VegetarianDiet
Ingredients
6 Oregold@reg; Peaches, halved and pitted 12 Tbsp. Rogue Creamery@reg; or other blue cheese, at room temperature 12 Tbsp. Harry and David Almonds, chopped 12 Tbsp. honey
Instructions
Lightly oil and preheat grill to medium high. Grill peach halves cut side down until well-marked and lightly cooked. Arrange peach halves cut side up on six plates. Fill each cavity with one tablespoon of blue cheese and one tablespoon of nuts. Drizzle honey over peaches, cheese and nuts. Feeling adventurous? Add some tender greens and balsamic vinaigrette to this recipe to create a tasty salad.
MAKES: n/a
SERVES: n/a
CALORIES/SERVING: n/a