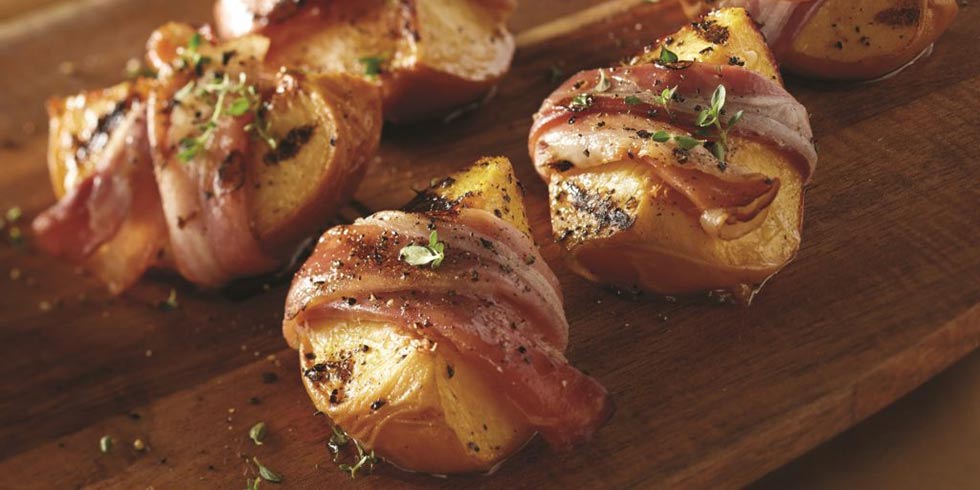 Grilled Peaches Wrapped in Bacon
( Harry and David Team
Appetizers
American )
This summer try out some new recipes, starting with this Bacon Wrapped Grilled Peach recipe! This recipe can be a simple appetizer and its a new way to use your favorite peaches!
Grilled Peaches Wrapped in Bacon
Prep Time: PT5M
Cook Time: PT7M
Total Time: PT12M
LowLactoseDiet
Ingredients
4 peaches Olive oil (for brushing) 3 sprigs of thyme 16 strips of bacon 16 toothpicks (soaked in water for 30min)
Instructions
Prepare grill Cut peaches in half, then in 4 quarters Cut bacon in half lengthwise Wrap strip of bacon around each peach slice and secure with toothpick Lightly brush the bacon-wrapped peaches with olive oil Put them cut side down for a couple of minutes Carefully lift them and turn them on the other side until they start to soften and the bacon is crisp at the edges (5 to 7 minutes) Put on platter, scatter thyme leaves on top Serve immediately and enjoy!
MAKES: n/a
SERVES: n/a
CALORIES/SERVING: n/a