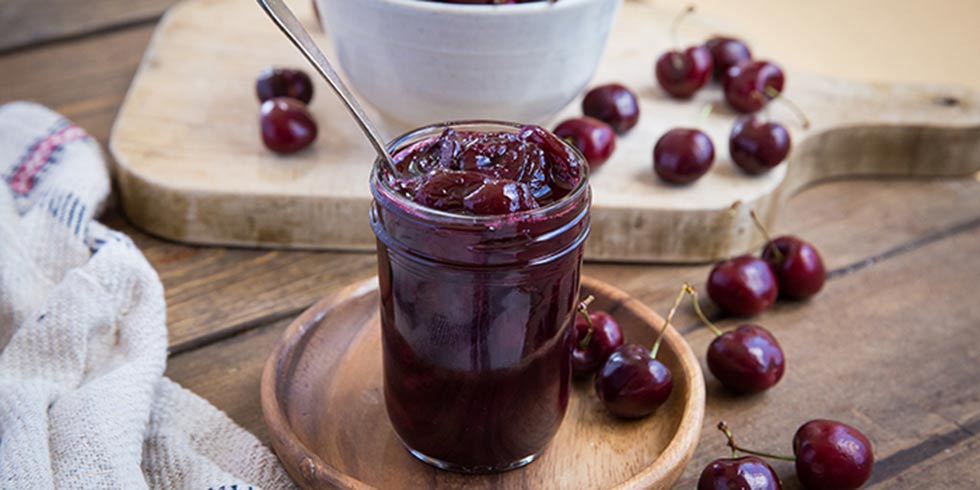 Naturally Sweetened Cherry Compote
(
Dessert, Appetizers
American )
This cherry compote is sweetened with maple syrup and makes the perfect topping to all your favorite summer treats. This cherry recipe is a great way to enjoy cherries all season long.
Naturally Sweetened Cherry Compote
Prep Time: PT20M
Cook Time: PT45M
Total Time: PT01H5M
VegetarianDiet, VeganDiet
Ingredients
3 cups Harry & David cherries, pitted and halved 1/4 cup water 3 tbsp pure maple syrup 1/2 tsp ground cinnamon Pinch of sea salt 1 tsp pure vanilla extract
Instructions
Wash cherries well and pat dry. Remove stems and pit cherries using a cherry pitter or a paring knife. Add all ingredients except vanilla extract to a saucepan and stir well. Cover and bring to a full boil. Reduce the heat and allow mixture to continue cooking at a controlled boil covered for 30 minutes, stirring occasionally. Remove cover and continue cooking at a gentle boil for 10 minutes, stirring occasionally. Remove compote from heat, stir in the vanilla extract, and allow it to cool to room temperature. Use immediately or transfer to a sealable jar and refrigerate. Note: compote will thicken as it sits in the refrigerator. Compote keeps for 10 days when stored in a sealed jar.
MAKES: n/a
SERVES: n/a
CALORIES/SERVING: n/a