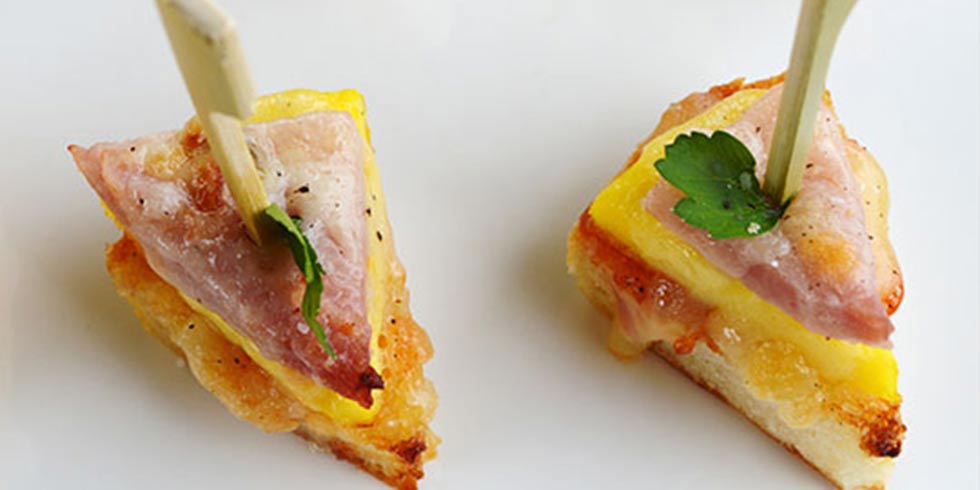 Savory White Cheddar, Egg and Ham Brunch Bites
( Harry and David Team
Appetizers, Brunch, Breakfast
American )
Looking for a fun dish to start off your morning? Look no further than these White Cheddar, Egg and Ham Brunch Bites!
Savory White Cheddar, Egg and Ham Brunch Bites
Prep Time: PT15M
Cook Time: PT22M
Total Time: PT37M
Ingredients
2 Wolferman's@reg; original recipe English muffins 3 Tbsp. unsalted butter 3 large eggs 2 Tbsp. half-and-half 1/4 tsp. kosher salt 1 Tbsp. Harry & David@reg; hot and smoky pepper and onion relish 2 ounces Harry & David@reg; spiral-sliced ham 1 ounce Harry & David@reg; white cheddar cheese (shredded) 1 sprig Italian parsley (optional) 1 pinch salt and pepper
Instructions
Melt 2 tablespoons of butter in the microwave. Brush each half of both English muffins, and lightly toast. Use the remaining 1 tablespoon butter and grease a shallow baking dish. Whisk the eggs, half-and-half, and kosher salt and add to prepared baking dish. Bake in preheated 350 F toaster oven for 20-22 minutes, or until just set. While the eggs are baking, shred the cheese and cut small pieces from the pre-sliced ham. Remove the baked egg from the oven and cut into 4 even pieces. To assemble, spread the relish onto the muffin, place the egg onto the relish and the ham onto the egg, and top with the cheese. Broil until golden brown and slice into 8 pie-shaped wedges. Garnish with Italian parsley, a pinch of salt and pepper, and hors d'oeuvre picks.
MAKES: n/a
SERVES: n/a
CALORIES/SERVING: n/a