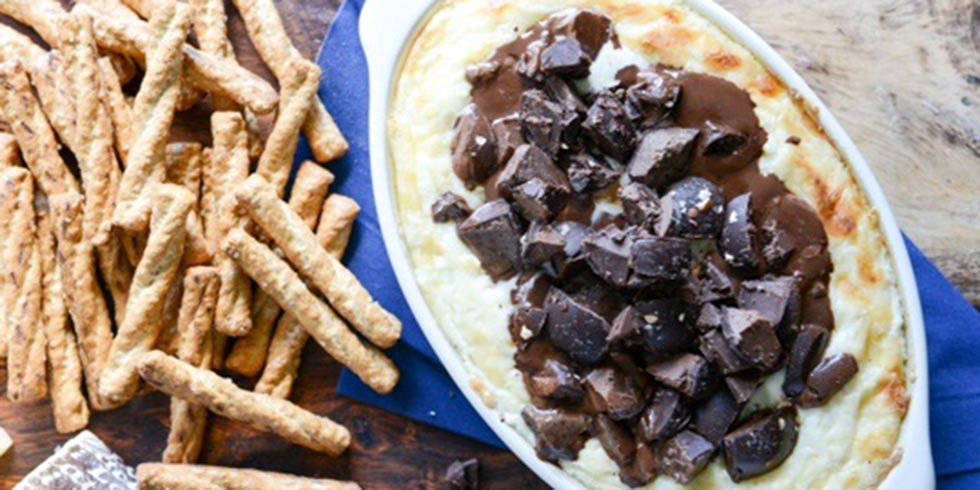 Cheddar Chocolate Truffle Dip
( Jessica Merchant
Appetizers, Dessert
American )
Jessica Merchant, author of How Sweet It Is, combines our Dark Chocolate and Signature Truffles to create a recipe that works as an appetizer or dessert. We can't wait to try this savory and sweet dish.
Cheddar Chocolate Truffle Dip
Prep Time: n/a
Cook Time: n/a
Total Time: n/a
VegetarianDiet
Ingredients
8 ounces cream cheese 2 ounces mascarpone cheese 1 cup freshly grated sharp white cheddar cheese 1/3 cup freshly grated Parmigiano-Reggiano cheese 8 chocolate truffles, coarsely chopped whole wheat pretzel twists for serving
Instructions
Preheat your oven to 375 degrees F. In a bowl, combine the cream cheese, mascarpone and grated cheeses together. Mix them well to combine and evenly distribute the grated cheese throughout the mixture. Press the dip into a small baking dish and smooth out the top Bake the dip for 25 to 30 minutes, until the top is bubbly and slightly golden brown. Remove the dip from the oven and let it sit for 10 minutes. After 10 minutes, pile the chopped truffles on top of the dip and serve it immediately with pretzel sticks.
MAKES: n/a
SERVES: n/a
CALORIES/SERVING: n/a