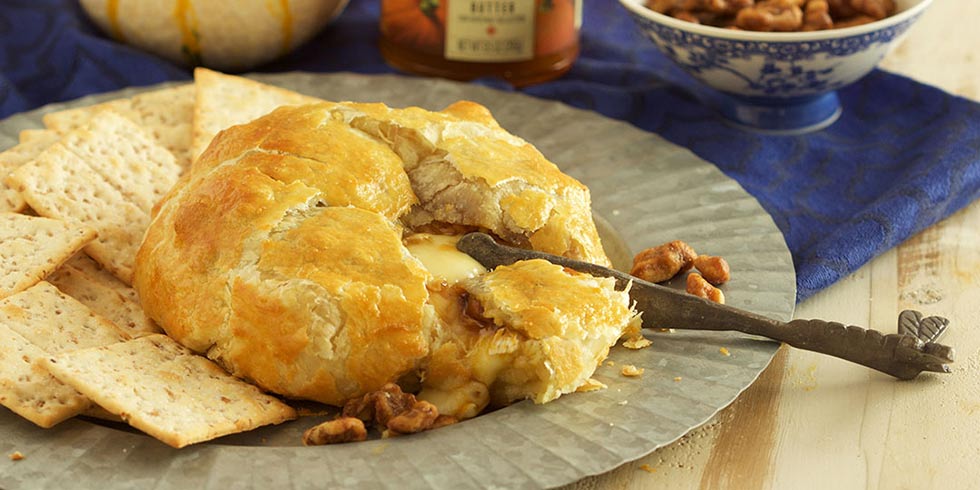 Baked Brie with Pumpkin Butter and Candied Walnuts
( Kellie Hemmerly
Appetizers
American )
This holiday appetizer is all wrapped up in buttery pastry dough. Pumpkin Butter Baked Brie adds a warm, melty side to your usual cheese platter. You'll take more than one bite of this puff pastry wrapped brie topped with sweet pumpkin butter and candied walnuts. We promise!
Baked Brie with Pumpkin Butter and Candied Walnuts
Prep Time: n/a
Cook Time: n/a
Total Time: n/a
VegetarianDiet
Ingredients
1 sheet frozen puff pastry, thawed 1/4 cup Harry & David Pumpkin Butter 1/4 cup chopped candied walnuts (or regular walnuts) 1 8-ounce wheel of Brie, removed from packaging and rind in tact 1 egg, lightly beaten
Instructions
Preheat oven to 350 degrees. On a lightly floured surface, roll out the puff pastry to approximately 11 inches square. Spread the pumpkin butter evenly in the center of the pastry to form a 4 inch circle. Sprinkle the walnuts evenly over the pumpkin butter and top with the brie. Fold the corners of the pastry up over the brie and pinch to seal. Place the pastry wrapped brie on a baking sheet lined with parchment and brush the surface with the egg. Bake for 25-30 minutes or until the pastry is puffed and golden brown. Remove from the oven and allow to rest for 5 minutes. Serve warm or at room temperature.
MAKES: n/a
SERVES: n/a
CALORIES/SERVING: n/a