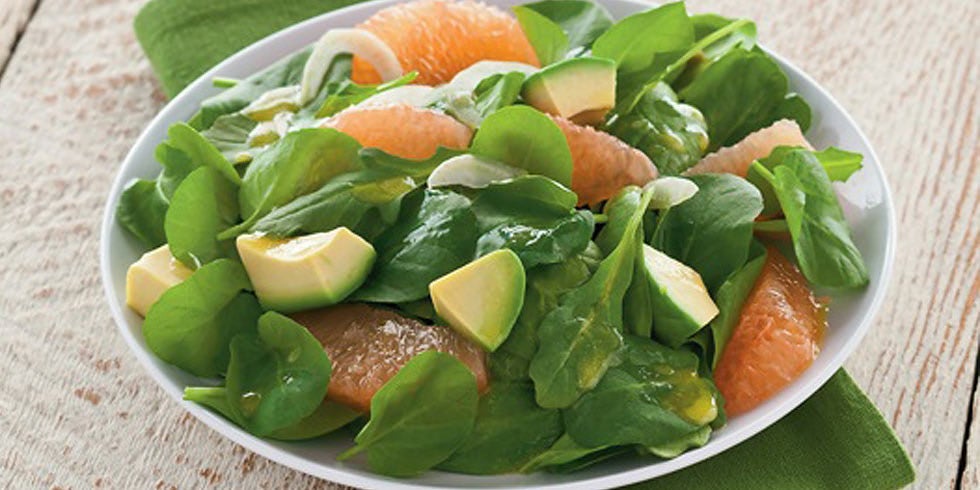 Avocado Grapefruit Salad
( Harry and David Team
Appetizers
American )
Every March we celebrate the return of sweet, delicious grapefruit. Our Avocado Grapefruit Salad recipe is a delightfully fresh way to showcase this premium fruit, harvested from the grove at its peak. Enjoy!
Avocado Grapefruit Salad
Prep Time: PT10M
Cook Time: n/a
Total Time: PT10M
VegetarianDiet
Ingredients
_For Dressing 1/4 cup fresh lemon juice 2 tsp. Dijon mustard 1/2 tsp sea salt 1 tsp. ground pepper 1/2 cup olive oil _For Salad 8 oz baby arugula or green lettuce or a combination 1 large, firm avocado, peeled and sliced 1 bulb fennel, thinly shaved 1 grapefruit, peeled and sectioned with membranes removed
Instructions
_For the dressing Whisk together the lemon juice, mustard, salt and pepper. Gradually whisk in the olive oil. _For the salad Gently tear the greens into bite sized pieces. Arrange on four chilled plates. Alternate slices of avocado and grapefruit sections on greens. Top with shaved fennel and drizzle the dressing generously over the salad.
MAKES: n/a
SERVES: n/a
CALORIES/SERVING: n/a