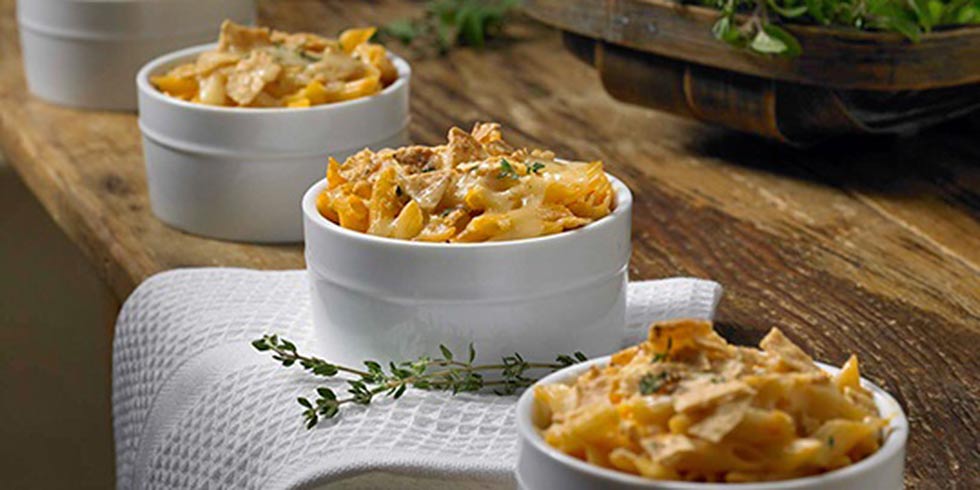 Artichoke Mac n Cheese
( Harry and David Team
Dinner, Appetizers
American )
Whether you're hosting a party, or craving an old favorite for dinner, our Artichoke Mac N Cheese recipe takes comfort food to a whole new level. It combines our Jalapeno Tomato Cheese Dip and Spinach and Artichoke Dip into one flavorful dish.
Artichoke Mac n Cheese
Prep Time: PT10M
Cook Time: PT30M
Total Time: PT40M
VegetarianDiet
Ingredients
1/2 pound of your favorite pasta 10 oz. Harry & David@reg; Jalapeno Tomato Cheese Dip 6 oz. Harry & David@reg; Spinach and Artichoke Dip 2 T. Worchestershire Sauce 1/2 cup sharp cheddar, grated 3 oz. Harry & David@reg; Sesame Garlic Tortilla Chips, crushed
Instructions
Preheat oven to 375 F. Oil pan. Cook pasta. Combine pasta with cheese dip, artichoke dip and Worchestershire sauce. Mix and fill baking dish. Sprinkle with grated cheddar. Top with Tortilla Chips. Bake 30 min.
MAKES: n/a
SERVES: n/a
CALORIES/SERVING: n/a