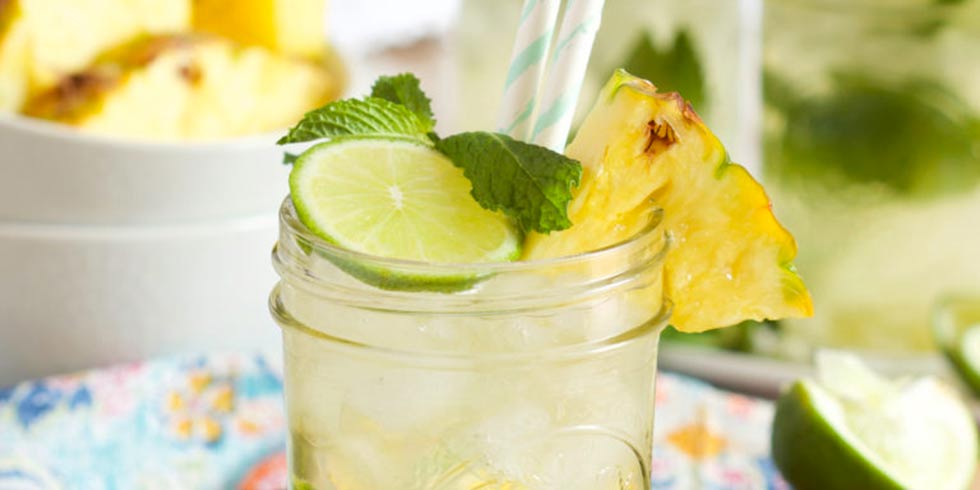 Sparkling Pineapple Cocktail
( Kellie Hemmerly
Drinks
American )
Fresh and fruity, this Sparkling Pineapple Cocktail is a delicious twist on the Mojito. Get ready to serve this all summer long. This recipe, from Kellie Hemmerly from The Suburban Soapbox, is made with this month's Fruit-of-The-Month Club shipment, deliciously sweet pineapples!
Sparkling Pineapple Cocktail
Prep Time: n/a
Cook Time: n/a
Total Time: n/a
VegetarianDiet, Dairy-Free
Ingredients
1 cup finely diced fresh pineapple 12-14 mint leaves 2 teaspoons superfine sugar or simple syrup 2 ounces fresh pineapple juice 2 ounces fresh lime juice 4 ounces white rum 1 bottle Champagne
Instructions
Place 1/4 cup of pineapple, 3-4 mint leaves, 1/2 teaspoon sugar (or simple syrup), 1/2 ounce pineapple juice, and 1/2 ounce of lime juice in the bottom of a Champagne glass. Using a muddler, crush the pineapple and mint to release the oils. Stir in 1 ounce of rum. Top with Champagne until glass is filled. Garnish with pineapple, lime and fresh mint leaves, if desired. Repeat with remaining cocktails.
MAKES: n/a
SERVES: n/a
CALORIES/SERVING: n/a