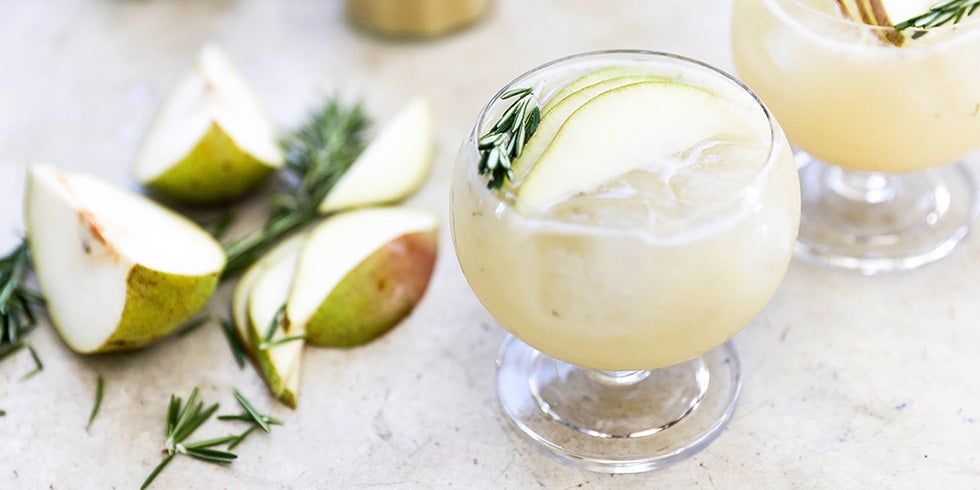 Pear Gin Fizz Cocktail for Holiday Sipping
Holiday entertaining can get stressful, but with this delicious cocktail recipe you can start the season off just right. By infusing floral flavors like Elderflower and Rosemary as well as adding Royal Riviera Pears, this holiday drink will become a seasonal favorite.
Pear Gin Fizz Cocktail for Holiday Sipping
Prep Time: PT10M
Cook Time: PT10M
Total Time: PT20M
Ingredients
_For the Pear-Rosemary Puree 4 cups peeled and chopped Harry & David Royal Riviera Pears 3/4 cups water 2 tablespoons sugar Juice from 2 lemons 1 sprig fresh rosemary _For the Cocktails 3 ounces pear-rosemary pur饜n3 ounces gin 1.5 ounces elderflower liqueur Ice cubes Tonic water or club soda _For the Garnish Sliced Harry & David Royal Riviera Pears Fresh rosemary
Instructions
In a medium saucepan, combine the chopped pears, water, sugar, lemon juice and rosemary. Bring to a simmer and cook, stirring occasionally, for 10-12 minutes. The pears should be softened. Remove the saucepan from the heat and let cool. Remove and discard the rosemary sprig. Then transfer the cooked pears and any remaining liquid in the saucepan to your blender and blend on high until smooth. Transfer the pear-rosemary puree to a clean re-sealable container and refrigerate until well chilled. The puree can be stored for 2-3 days. For the cocktails, add the pear-rosemary puree, gin and elderflower liqueur to a shaker with ice. Shake vigorously until well chilled. Then strain the liquid into two serving glasses with ice. Top with tonic water or club soda. Garnish with sliced pears and fresh rosemary. Enjoy immediately.
MAKES: n/a
SERVES: n/a
CALORIES/SERVING: n/a