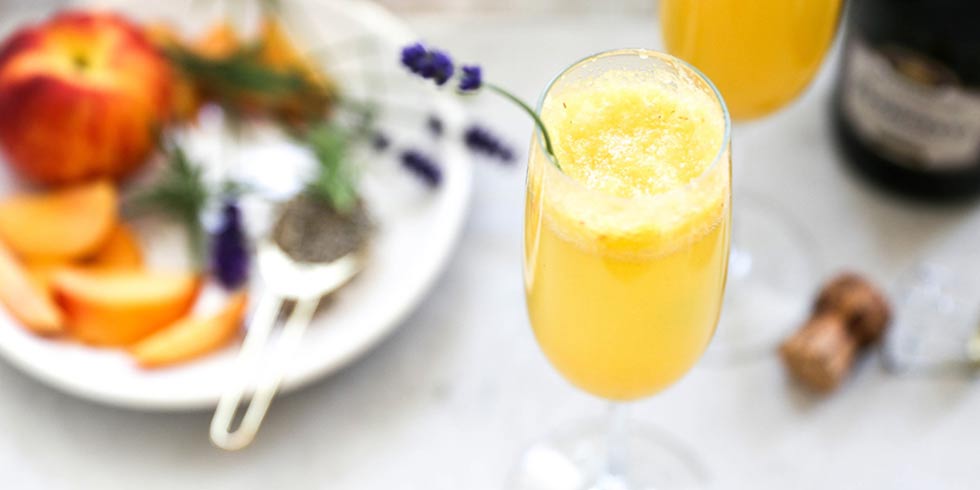 Homemade Lavender Peach Bellini
Impress your friends by whipping up this homemade Peach Bellini! This delicious recipe features Harry & David Oregold Peaches, and will quickly become your favorite summer beverage.
Homemade Lavender Peach Bellini
Prep Time: PT1H
Cook Time: PT18M
Total Time: PT1H18M
VegetarianDiet, VeganDiet
Ingredients
_For the peach-lavender puree 1/4 cup granulated sugar 1/4 cup water 1 tablespoon dried culinary lavender 4 Harry & David Oregold Peaches, pitted, peeled and chopped _For the bellinis Chilled Prosecco Fresh lavender, for garnish
Instructions
In a small saucepan over medium heat, combine the sugar, water and lavender. Simmer the mixture while stirring until the sugar is dissolved, about 2-3 minutes. Then, remove the saucepan from the heat and let the lavender steep in the liquid for about 15 minutes. Strain the liquid into a clean container, collecting and discarding the lavender solids. Add the chopped peaches and lavender simple syrup to your blender and blend on high until completely smooth. Transfer the puree to a clean container and refrigerate until chilled. For the bellinis, place about 2 tablespoons of the chilled peach-lavender puree into champagne flutes. Slowly fill with Prosecco. Garnish with a sprig of fresh lavender, if desired. Enjoy immediately.
MAKES: n/a
SERVES: n/a
CALORIES/SERVING: n/a