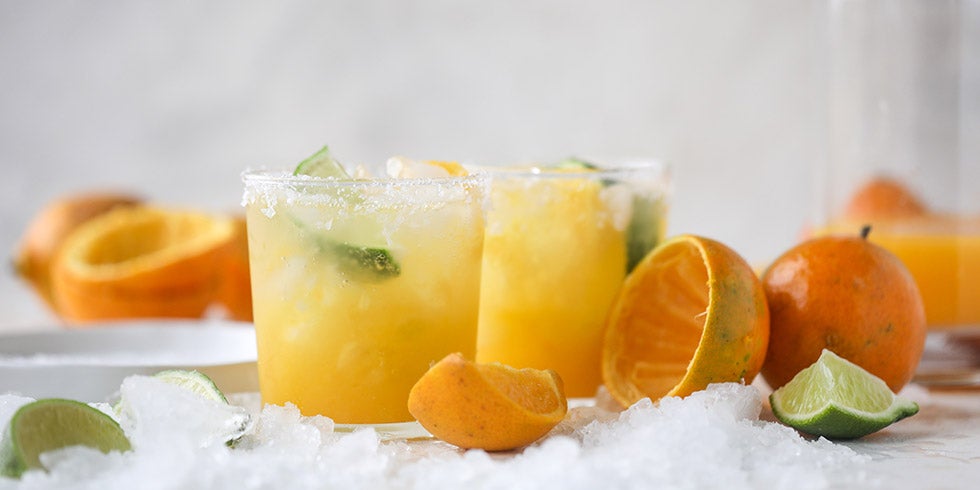 Honeybell Orange Margarita
It's time for margaritas! This Orange Margarita recipe is made with Harry & David HoneyBells, which are sweet tangelos, is like sunshine in a glass.
Honeybell Orange Margarita
Prep Time: PT12M
Cook Time: n/a
Total Time: PT12M
Ingredients
2 ounces freshly squeezed HoneyBell orange juice 1 1/2 ounces silver tequila 1 ounce orange liqueur 1 ounce freshly squeezed lime juice 1 1/2 ounces simple syrup Orange and lime slices, for garnish Coarse salt for the rim
Instructions
Rim the ridge of your glass with a lime wedge and dip in coarse salt. Fill the glass with ice. In a cocktail shaker, combine orange juice, tequila, orange liqueur, lime and simple syrup with ice, and shake for about 30 seconds. Pour over ice and squeeze in lime and add HoneyBell slices. _For the Simple Syrup Combine equal parts sugar and water, bring to a boil and let sugar dissolve, then turn off heat and let cool completely.
MAKES: n/a
SERVES: n/a
CALORIES/SERVING: n/a