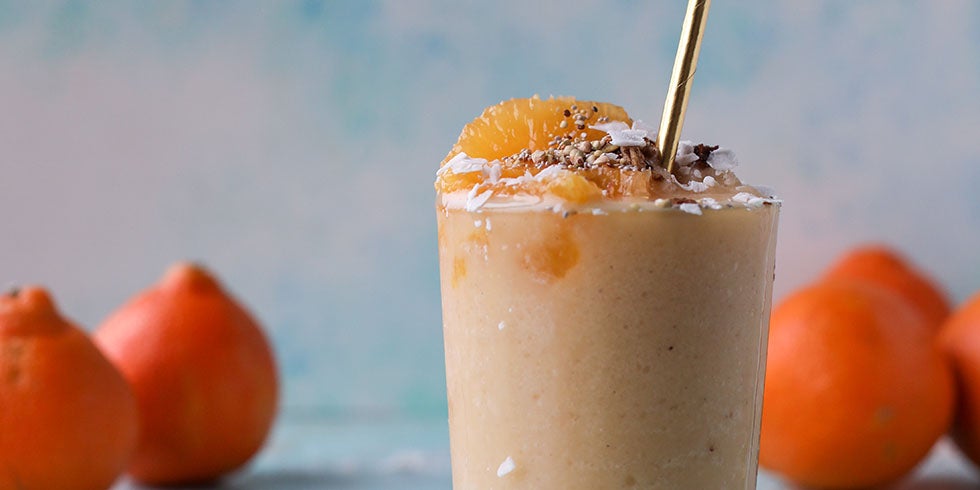 Honeybell Creamsicle Smoothie
(
Drinks, Breakfast
American )
Cushman's@reg; HoneyBells are finally in season, and we're celebrating with a delicious creamsicle orange smoothie!
Honeybell Creamsicle Smoothie
Prep Time: PT10M
Cook Time: n/a
Total Time: PT10M
VegetarianDiet
Ingredients
1 cup ice 1 cup coconut milk 1/2 cup vanilla greek yogurt 1/2 cup freshly squeezed Cushman's@reg; HoneyBell juice 1 frozen banana 1 whole Cushman's@reg; HoneyBell tangelo 1 teaspoon vanilla bean paste (extract works too!) pinch of salt "_For Garnish" HoneyBell segments your favorite granola unsweetened, flaked coconut chia seeds
Instructions
Add all of the ingredients to a blender and puree until thick, creamy and smooth. Pour into two glasses and garnish with extra HoneyBell segments, granola, flaked coconut and chia seeds. Cheers to a bright morning!
MAKES: n/a
SERVES: n/a
CALORIES/SERVING: n/a