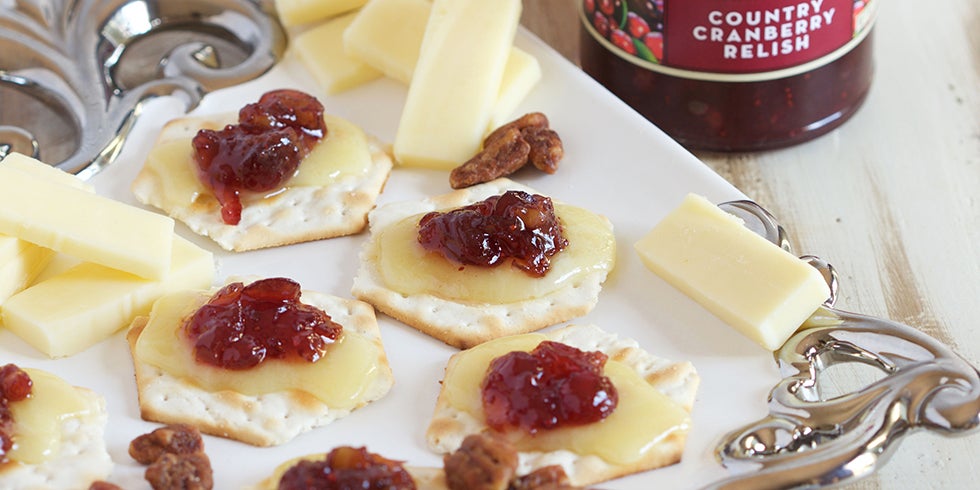 Three-Ingredient Cranberry Relish Appetizer
( Harry and David Team
Snacks, Appetizers
American )
Three ingredients are really all you need to create a tasty appetizer. Cranberry Relish Cheddar Crackers are a simple and soon-to-be party favorite. Ready in just minutes, they're filled with rich flavors everyone can enjoy.
Three-Ingredient Cranberry Relish Appetizer
Prep Time: PT3M
Cook Time: PT5M
Total Time: PT8M
VegetarianDiet
Ingredients
12 water crackers (or your favorite variety of cracker) 12 1-oz slices white cheddar cheese 12 teaspoons Harry and David Cranberry Relish
Instructions
Preheat oven to 375 degrees. Arrange the crackers in a single layer on a baking sheet, and top each cracker with one slice of cheddar cheese. Bake for 4-5 minutes or until the cheese is melted. Top each cracker with 1 teaspoon of cranberry relish. Enjoy!
MAKES: n/a
SERVES: n/a
CALORIES/SERVING: n/a