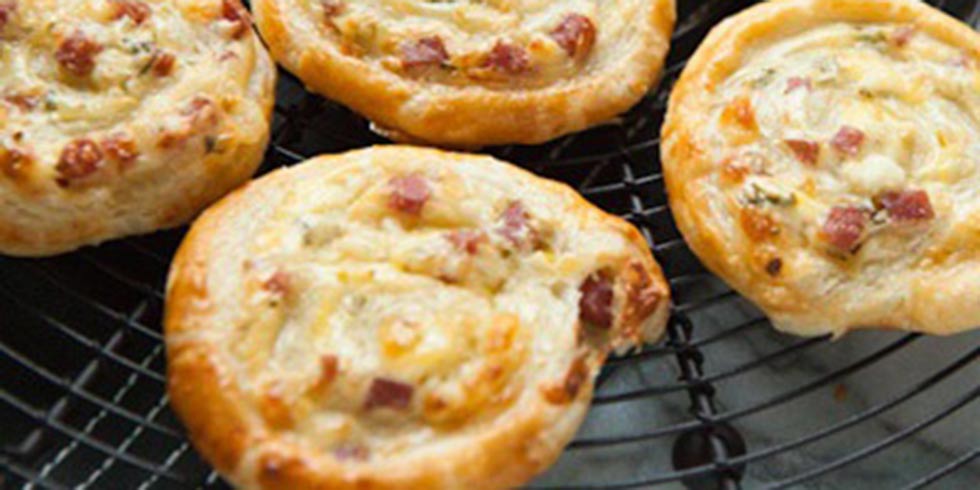 Cheddar and Smoked Summer Sausage Pinwheel Appetizer
(
Appetizers, Snacks
American )
Filled with snacks both sweet and savory, the Harry's Gift Box has something for everyone. You can even use the ingredients to create a delicious cheddar and smoked summer sausage pinwheel appetizer that's perfect for events of all sorts, from birthday parties to game day get-togethers.
Cheddar and Smoked Summer Sausage Pinwheel Appetizer
Prep Time: n/a
Cook Time: PT18M
Total Time: n/a
Ingredients
1/2 cup cream cheese, softened 3 green onions, sliced 1/2 cup shredded Harry & David@reg; Aged Extra Sharp Cheddar Cheese 1/2 package of 5-ounce Harry & David@reg; Hickory Smoked Summer Sausage, diced small 1 frozen puff pastry sheet, thawed flour, for dusting 1 egg, beaten
Instructions
Heat oven to 400 degrees F. Mix beaten egg with one tablespoon of cold water in a small prep bowl. Mix cream cheese, green onions, shredded cheddar and diced smoked summer sausage in a small mixing bowl. Flour a cutting board or surface and place thawed puff pastry sheet on it. Brush egg wash all over the puff pastry sheet. Using a spoon, spread the cream cheese-cheddar mixture all over the pastry sheet. Starting on the short edge, roll up the puff pastry sheet. Using a sharp knife, cut slices that are about 1/2-inch thick. Place cut side down on a parchment paper-lined baking sheet and brush sides and tops with the egg wash. Bake for 16 to 18 minutes. Allow to cool on a cooling rack for at least 5 minutes.
MAKES: n/a
SERVES: n/a
CALORIES/SERVING: n/a